Another interesting item(s) that my friend sent to me were some Japanese McDonald's Happy Meal items. In Japan, the Happy Meal is called a Happy Set, so we'll refer to it as such. Anyway, I'll gladly take Kamen Rider Happy Set merchandise over Happy Meal toys anyday!
This campaign was the Kamen Rider 40th Special Collaboration: Kamen Rider All Stars 2011. The toys were miniature busts of several Riders, with different sets having different functions. Eight of them had viewfinders, six had sound, and four had LEDs. There were two special versions, and this happens to be one of them. It's a motion-activated sound type. Check out a video someone else posted below to see it in action.
An 8 page booklet was also included that had some info for all of the main
Showa
and
Heisei
Riders. Here's a pic (not mine) of the front and back cover.
I've never collected Happy Meal toys, but if we ever start getting Happy Set toys like these, I'll be a McNugget eatin' mofo. If you ever want to know what Happy Set goods are currently available, you can check
here
. Finally, I'll leave you with a picture that I came across while researching that made me "sigh". One of these days...one of these days.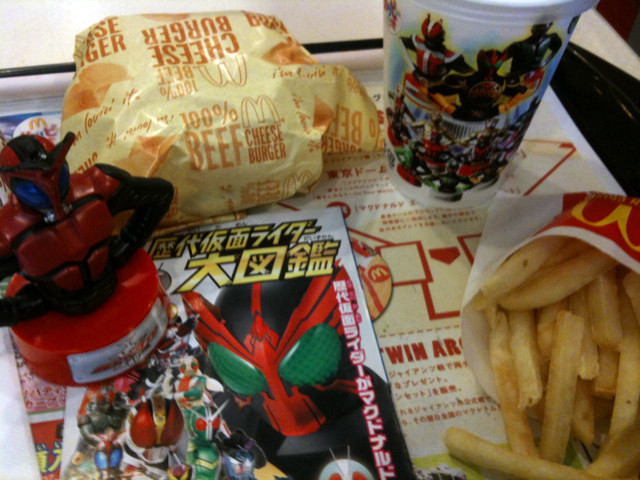 ハッピーセット 仮面ライダー40 スペシャルコラボ ライダーオールスターズ2011